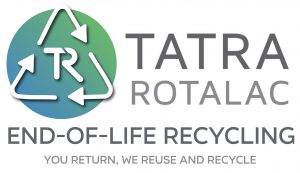 With our new end-of-life recycling, we turn your unwanted materials into new products. Our customers return products once they have reached the end of their life cycle as part of the recycling process, which is then reground and reused to manufacture endless new products. Your products are guaranteed to be manufactured into new materials, ready to be used for future products.
We are thinking of the future, developing products that are being created with recycled material and when they are at the end of their life cycle, will be fully recyclable again. By returning your products to us here at Tatra Rotalac, you are preventing landfill waste and providing a new life for these materials. End-of-life recycling offers environmentally friendly options for material waste, further supporting our circular economic focus. We guarantee that sustainability factors into our manufacturing process with all products.
For more information regarding our end-of-life recycling scheme, please fill in the details below and one of our experts will get back to you with the relevant information. Alternatively, give us a call on 0161 946 9460.