Cable entry covers for protecting cable entry on external walls also hides any broken or chipped bricks as well as helping to prevent water ingress particularly when drilling has caused the brick to burst. The cover is placed over the cable entry point on the external wall.
CLICK HERE TO SEE THE PRODUCT SHEET FOR CABLE ENTRY COVERS
CAPPING 25
For use with cover 101A to enclose service cable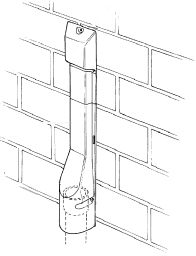 072180 (FBT0131 – 50)
CONNECTOR BEND 4
For use on housing estates to connect Duct 102 or Duct 56 to Cover 101A
095096 (FBT0321 – 20)
COVER 101A
To cover cable entry on house wall
071987 (ABT0071 – 120)
HELPS TIDY INSTALLATIONS AS WELL AS HELPING TO PREVENT WATER INGRESS. CAN BE GLUED IN PLACE WITH SILICONE ADHESIVE OR NAILED WITH SMALL CABLE CLIP NAILS
We have a wealth of experience in the aerospace industry, frequently working with and providing advice on specialist technical materials including flame-retardant, anti-static and infra-red options.
Here are some of the aerospace parts we can produce:
Flexible plastic cable covers
Plastic cable trays
Rigid plastic tray slide covers
Plastic wiring channels